We are slowly getting used to the outrageous costs of most everything on the island.  We are guessing that our electric bill will be around $600 U.S. per month.  A lunchable for the kids is $4 U.S.  The few times that the kids do eat lunch at school we have to shell out $5 each for lunch.  On top of that, the schools have a snack time in the morning which is $2.50 and on Fridays the kids can wear street clothes if they pay $2.50.  All of that adds up with two kids in school.  One thing that I refused to pay for was $35 (before tip) for a haircut.  We had anticipated this outrageous cost and Jennifer bought with her a clipper set for cutting my hair and Michael's hair.  I've wanted her to cut my hair for years but she was never very keen on the idea.  She did a great job and I'm really excited about having free cuts for the rest of my life, even when we do move back to the States.  The only problem was we forgot to bring a hair cape.  Michael looked like he had the back hair of a 60 year old man when his trim was finished.  I found a garbage bag and draped it over my shoulders to keep some of the hair off.  Michael was very squirmy during his cut and immediately took a bath to get all of the hair off of him.
One of the big reasons I wanted to move here was the opportunity to experience radio contesting from a rare DX location.  I've been on the hunt for a contesting location for the past couple of weeks.  I've driven all over the island looking for a spot that is secluded and directly on the water with a shot towards the U.S., Japan, and Europe over salt water.  I asked our realtor if she knew of any place that might have a shelter and an electrical outlet on the beach.  Shouldn't be that hard to find, right?  Only problem is everyone else in the world wants to be directly on the water as well.  Our realtor gave me the number of a friend of hers, some guy named Ronnie.  I called Ronnie and told him what I was looking for.  He gave me the name of a ham from the U.S. that lives in the northern part of the island.  I called and talked to Art, ZF1AA, for about 30 minutes and it sounded promising.  He invited all of us out to his place and told the kids to bring their swimming suits.  Art and his wife were very welcoming and quite entertaining.  We stayed at their house for several hours while the kids collected shells on the beach and swam in their pool.  It turns out Art used to be in T.V. and was the creator of one of my favorite shows as a kid – Air Wolf.  I started humming the theme song to Air Wolf which is quite impressive considering it was only on for a couple of seasons in the mid 80s.  I must have been 6 or 7 years old when it was on T.V.  So now I have a place to operate from.  It will be field day style, meaning I will put a couple of wire antennas up the day of the contest and will operate outside.  Not so bad considering the weather here and the view from Art's back deck!  So Gigi from Bulgaria, gave me Ronnie's number from Australia, who gave me Art's number who is from the States.  Three people from three different continents quite a diverse mix of people here. These pictures are their back yard.
Friday night we drove to West Bay and stopped and ate at a nice restaurant on the water.  Well, the view was great but the food was so-so.  The restaurant had a large area around the water where Michael went exploring while we waited for our check.  A few minutes later Jennifer and I looked over where Michael was playing and didn't see him anywhere.  I ran over to the area where the ocean was quite strong and couldn't find him anywhere.  It was extremely scary and I was yelling for Michael and was about to jump into the water when he came darting out of the bathroom.
Every Tuesday I travel to Cayman Brac on a small puddle jumper.  It is a long day but is always interesting to start your day flying to work.  On the return trip to Grand Cayman the plane stops on Little Cayman, population 170.  I took a picture of the airport at Little Cayman.  Unfortunately you can't see it in the picture but they have a sign hanging over the airport door that says Terminal A Gate 1.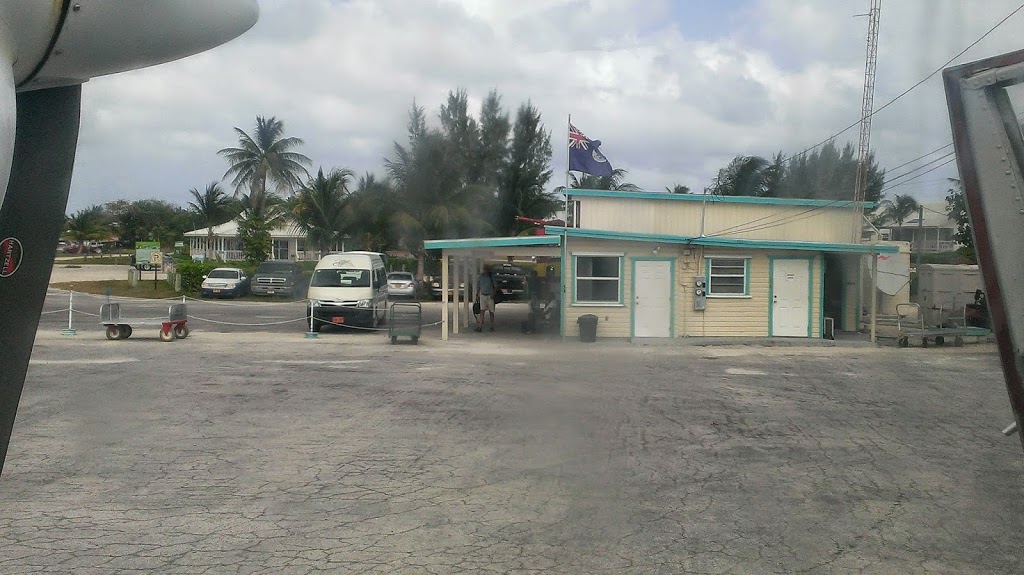 Little Cayman Airport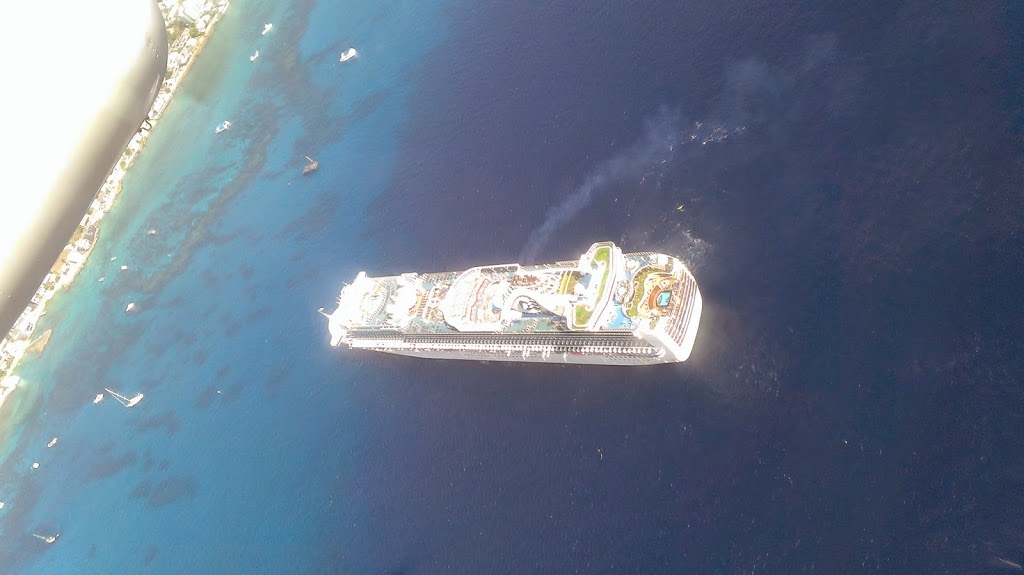 Cruise Ship in port at Grand Cayman