My shtick when it comes to work, is I'm really tall, and I'm a male. Not to many people have one of those attributes in the education system much less both of them. Height and gender is usually enough to get the kids to buy into whatever I'm selling. However, it appears that the students of the Cayman Islands have already been exposed to both a tall and male speech therapist in the form of a Canadian named Conrad Duncan. Over and over again I had teachers comment on that I was just like Conrad. I had a group of students yell out to me, "Mr. Duncan!" while I was walking across school. Oh well, they did say I was a little taller than him so I've got that going for me. Conrad is no longer on the island.
Daily living obligations such as a car, house, insurance, etc. are starting to be taken care of. We are now the proud owners of a 2001 Honda Odyssey Van. We thought that it would be great for picking people up from the airport, giving island day tours, and it is big enough for my parents to sleep in when they come and visit (they can use the courtesy pool shower to hose themselves off in the morning). The van was recently imported from Japan. There is a giant GPS navigation screen that appears to be working but it looks like the map is centered on Japan instead of Grand Cayman. It also says something to us in Japanese every time we turn the car on.
I had my first real experience in a radio contest from outside of the U.S. Using big antennas from a little island was definitely worth the move. Its quite an experience when 50 people are all sending their callsigns to you simultaneously in Morse Code.
Katie and I went to Spotts beach on Saturday between my short stints at the radio station. It is a public beach that is 1/2 a mile from where our apartment complex is located. It is very secluded and has some really nice snorkeling. The highlight of the trip was getting to swim with turtles. The area is a mixture of sand and sea grass and the turtles like to congregate around the grass in order to find food. I saw half a dozen turtles in the hour or so that we stayed at the beach. They didn't really care that humans were around and I was able to get close enough to touch them (although we didn't touch them). During this time, Katie was on the beach under a tree reading a book. She hasn't acclimated to the ocean yet and going out past her knees makes her uneasy. I wasn't going to let her miss this so I told her to jump on my back and I took her out to see the turtles. After about 15 minutes of looking, I finally spotted one with its head poked briefly above the water. One of the nice features of Spotts beach is the water is very shallow. Katie could actually touch the bottom where the turtle was located. I swam at least a couple hundred of feet out from the shore and was still able to touch quite easily. I need to take my Go Pro camera next time and get some pictures and video to share.
Our free stay at Rochelle's house is over and we are back at Eldemire's Bed (just bed, no breakfast). Rochelle offered to let us stay with them for the next two nights, but I didn't want to impose on them. Thankfully we will be moving into our apartment on Tuesday and we can finally have a place to call home. Jennifer and Michael are also set to join us on Thursday!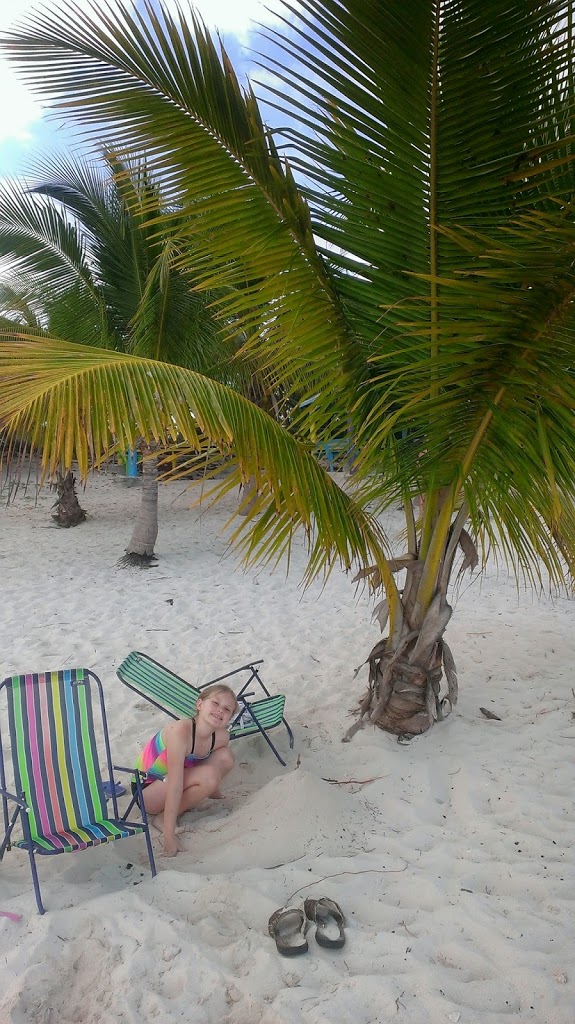 Katie's Sand Mountain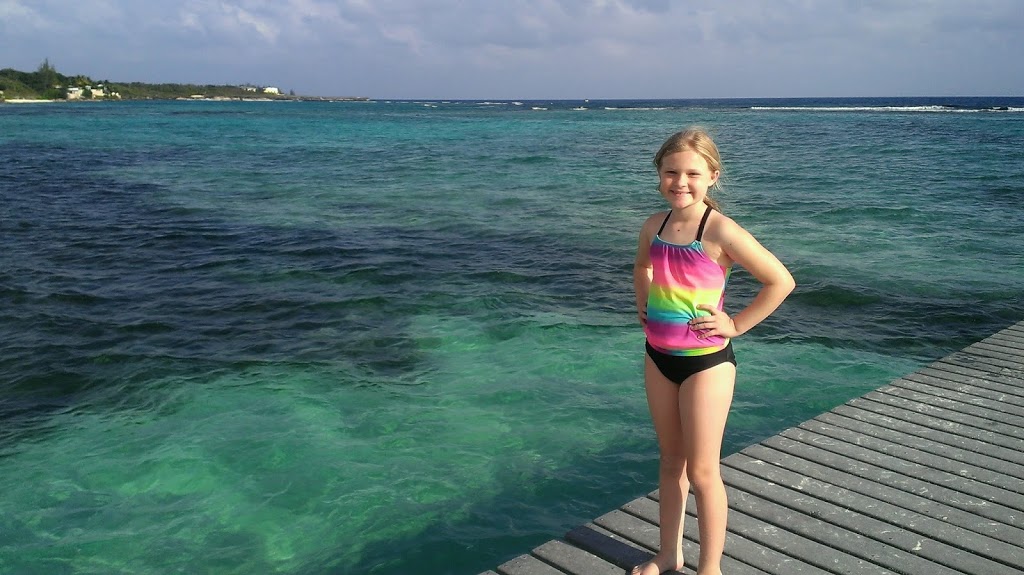 On the pier at Spotts Beach